Wedding Favors Your Guests Will
Long gone are the days where a clear polyester bag of candy coated almonds sat on a table as a wedding guest favor. Party favors have gotten more creative! Couples have realized it's better to give guests a favor they will actually use or love.
With so many ideas on how couples can communicate their two personalities into one awesome gift, we appreciate seeing couples take the time to add a little something into guest's pockets that represents their union. Here are a few creative ideas to help you plan out the perfect party favors: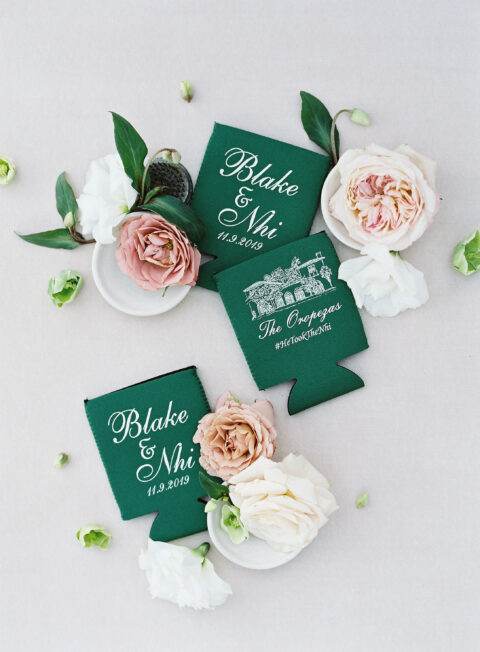 For the Drinkers:
Mini Sparkling Wine Bottles. Miniature bottles of bubbly can be a fun way to end the evening with a splash. Wanna go all out? Have them personalized with a special monogrammed label.
Personalized Koozies. For your soda or beer drinkers this is a nice reusable gift that they can always use and reminisce on the fun night you all had together.
Bottle Opener. Keeping with the drinking theme, a personalized bottle opener or even one decorated or shaped in something that symbolizes your relationship. Cheers to many years and cold beers.
Wine Bottle Stoppers. Ocean side wedding? Give out stoppers with little starfish or anchors on top. Love sports? Go for a sports themed stopper. Or just love wine in general? A bunch of grapes will do nicely.
Individually Packaged Coffee or Tea. Now here's a gift everyone will use! A cute packaged coffee or tea bag so they can reminisce over a morning coffee or late night tea time. They even make heart shaped tea bags to show even more love.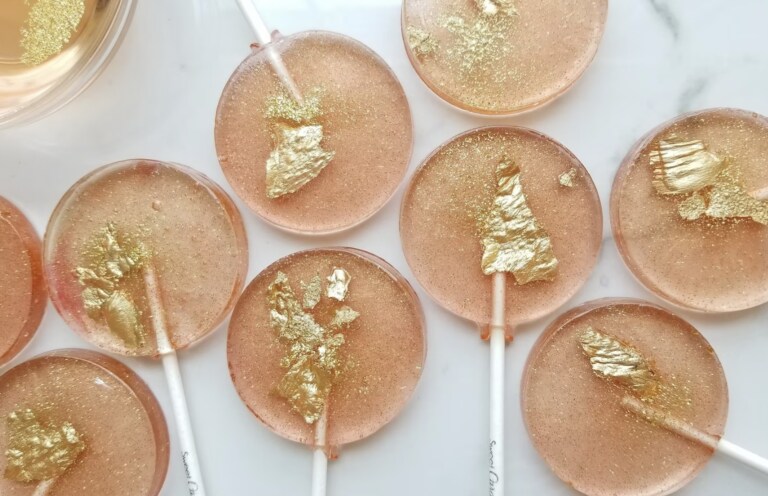 For the Eaters:
Unusual Lollipops. Edible wedding favor ideas are always a hit. You may have to put a limit on how many your guests can take! Personalized lollipops can be a fun sweet treat.
Personalized Cookies or Brittle.You better save a couple for yourself because believe me, there won't be any favors left to grab. Sweets in a cute little container or bag will be gone before you know it.
Chopsticks. Go sustainable with some bamboo chopsticks personalized with your name and special day on it.
Modern Salt and Pepper Shakers. Another practical gift that everyone will love. Cool salt and pepper shakers in fun geometric shapes are a way to remember your big day for years to come.
Honey Jars that say "Meant To Bee". How sweet it truly is to be loved by you on your wedding day. Share some of the sweets by giving the treat of locally made honey in a jar with a personalized label.
"Mint To Be" favor bags filled with your favorite minty treat. Your guests will love these tiny minty treats to freshen their breath and remind them of your love that was meant to be. Many of these awesome favors can be supplied by your Miami catering service.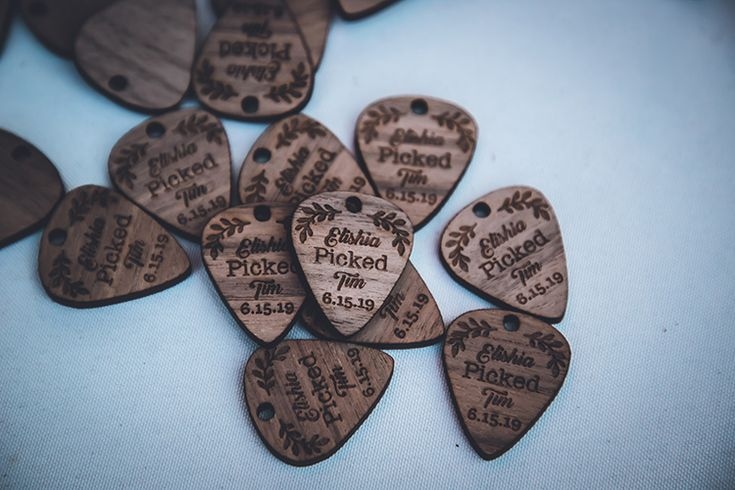 For Fun:
Feeling Adventurous? Adventure Themed Personalized Matchboxes or Luggage Tags. Travelers can always use a stylish luggage tag for their trips, and for the survivalist or just someone who loves lighting candles, a matchbook that says "& so the adventure begins" is a practical keepsake.
Guitar Picks. For the music lovers this is always a great gift since picks can be easily lost. So what a thoughtful way to replenish their stash with a pick imprinted with your special date on it.
Personalized Scratch Card Bags. Love the lottery? Maybe one lucky guest will remember your special day as the day you helped make them rich! Everyone loves scratch off tickets, and what a fun way to join in on the action.
Wooden Hand Fans. Beach wedding? Even if it's just outdoors, beautiful hand held fans are a lovely way to ward off unwanted pests or feel a little cooler during the daytime nuptials.
Plantable Pine Seedlings or Seed Starters. What a sustainable way to share love. A tiny spruce or sapling in a cute container personalized with your special day on it can be a beautiful way for people to plant a memory, literally, for years to come. Don't want to do a whole tree? Use a seed bag or special paper with seeds embedded to plant in soil and water to make something new grow from your lovely day.
Custom Photo Playing Cards. Why does it seem like you never have a complete deck of cards on hand? Solve that dilemma with your photo on a deck of fresh cards for your guests to enjoy and use time and time again to remember the good times you shared.
Scented Candles. These are always a hit, especially if you have a neutral scent or a variety for guests to choose their fav flavor.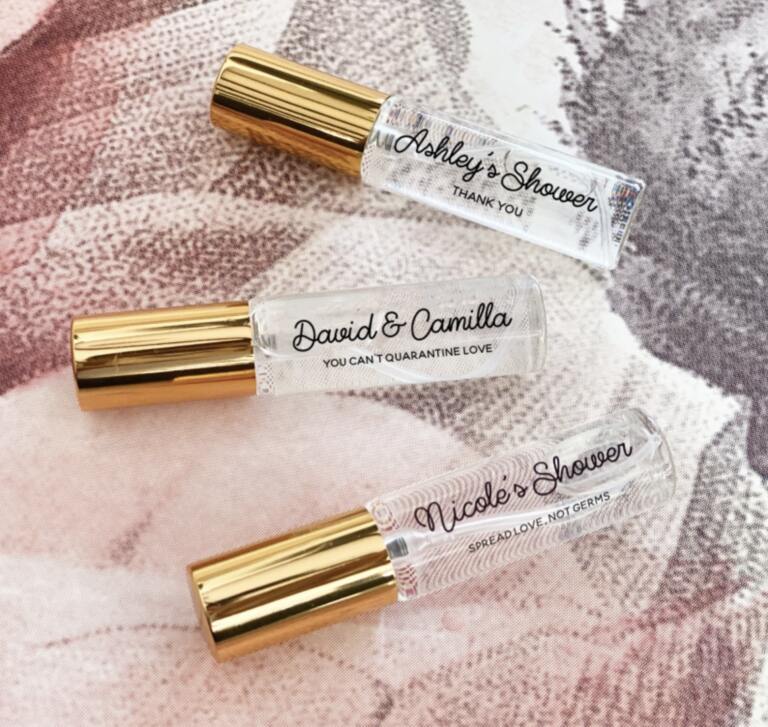 For Cleanliness:
Personal Hand Sanitizers. Being Covid Friendly? Now you can purchase wonderful scents in bulk to help your guests stay germ free.
Personalized Wedding Face Masks. Use your color theme and monogram masks with you and your significant other's name and the date of your special day. An added bonus: distribute them in personalized custom treat bags to limit direct contact.