Choosing Wedding Chairs to Fit Your Style
Take a seat. Is that chair comfy? Is it chic? Is it made of wood, plastic or metal?
The art of putting your wedding guest's bums in a seat for your ceremony and reception may not seem too daunting at first glance, but when you see how many choices there are, then the task becomes a little more than you may have signed up for. The wedding industry can be larger than life, and the choice you make can highly impact your overall wedding aesthetic.
Oh My! So many choices? Where do I start?
Two questions you should ask yourself is: "What aesthetic am I going for?" and "What is my budget?"
You want the style of chair you choose to go along with the theme and vibe of your wedding. Below we have listed all of the different styles of chairs. After you choose what style you are looking to incorporate, then you can narrow down the exact chair you are looking for. But, you also need to keep your budget in mind. Obviously, some chairs are much more expensive to rent than others. If they have a larger seat, you won't be able to fit as many around a table which will change the amount of tables and chairs you rent & the seating chart.
Will you use the same chair for the wedding ceremony as for the reception?
You can rent different types. One type for the ceremony, and a more comfortable seat for the reception. Or mix and match the chairs you choose! Mixed styles and shapes can give a different feel for your wedding, and can capture just the look you're aiming for. You can also choose to have different chairs just for the sweetheart table or head table. Spending the extra dollars on the B & G chairs can step up the look for the coveted couple on their big day. When you are thinking about mixing chair styles, sometimes it's fun to mix up table styles as well. Comfort is important during the reception. Your guests will be seated for an extended period of time, and a cushion included on the chair is much needed after breaking a sweat on the dance floor.
If you need me I'll be in the Lounge.
Current wedding trends have the happy couple designing lounge areas for their guests to chill in. A grouping of seats including couches, loveseats, eclectic chairs or poofs have become a popular wedding detail. This is a great way to broaden your theme and use the feel you are going for in a small seating area. Add a fire pit or coffee table to the middle of the grouping. Place a rug on the ground or chandelier above the specialized seating.
Romantic
You would be surprised how many colors you can find this style of chair in. Think about matching the hue of the chair with your overall theme and color scheme. The theme may lean toward "fairytale romance" or a "deep moody ambience". Or the clear chair seating can add a cool "not there" vibe. It can allow for the table setting and florals to take over the setting while remaining comfy and beautifully chosen.
Examples: Lola Chair, Amber Phantom Chair, Dusty Rose Sinatra Chair in Velvet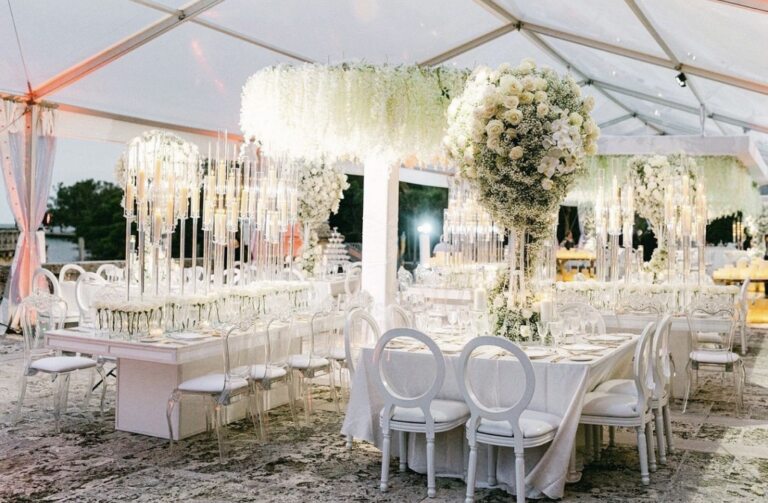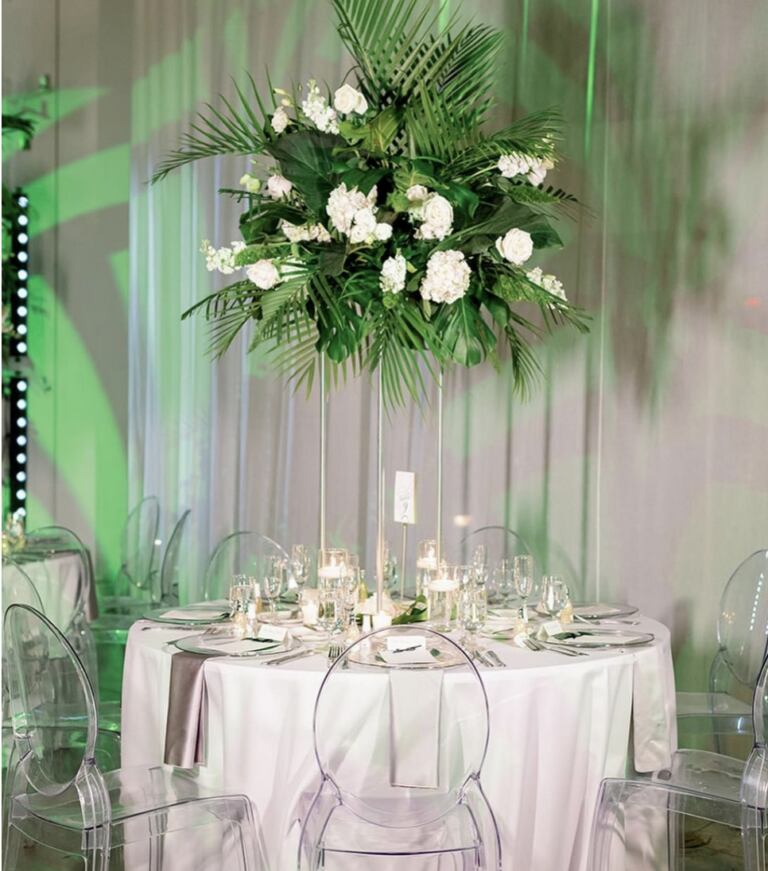 Boho
Boho weddings feature a free-spirited style that honors nature. Most people who choose a Boho style opt for an outdoor wedding venue, lush gardens, a beautiful tree in a field or backyard, a forest setting or green open fields. Nature is heavily involved in the decor, especially greenery or pampas grass in the floral arrangements. Wicker lounge areas, and fun comfortable setting for your guests is a must with this vibe. Consider raw wood seating, woven chairs, and bamboo elements.
Examples: Alexander Elmwood Chair, Chesapeake Gold Chair, Peacock Chair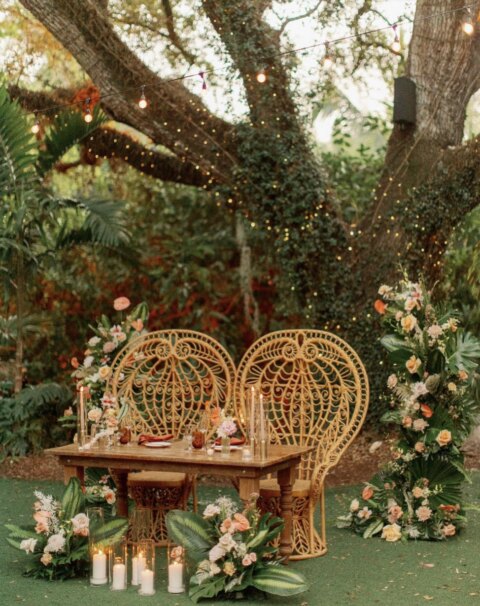 Coastal
Coastal weddings are often found in settings by the water. Beach venues or yacht clubs tend to take this style. A beautiful combination of sand, surf and sun. Lots of white hues with ocean blues claim this theme. The chairs are usually white, white washed or weathered wood seating, textured or patterned table linen, and lots of draping greenery and soft lighting.This calm dreamy mood can be very relaxing and elegant. Incorporate a tropical feel into your guest elements or florals. Even if your wedding isn't on the coast, this style can be fun even when you're land-locked.
Examples: Cane back Chair Distressed, X-Back Rustic Whitewash, White Chippendale Dining Chair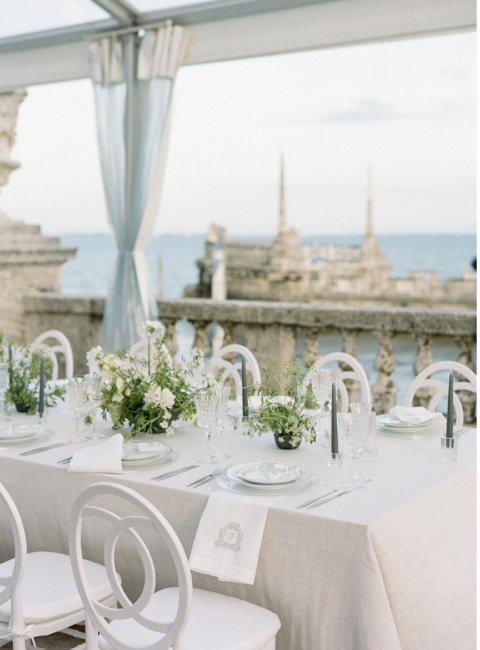 Glamorous
A glamorous wedding is an event that makes a big statement with its decor. This over the top "extra" feel can be so fun for the big day. Your guests will say "WOW" when they see this set-up. Think GOLD. Lots of Gold. Crystal chandeliers and diamond and glittery-inspired accents and lush velvet details are the items to incorporate with this theme. Deep rose color's can create an instantly glamorous vibe, as can gleaming gold rental chairs.
Examples: Ashton Chair in Gold, Mila Ivory, Rococco Gold Chair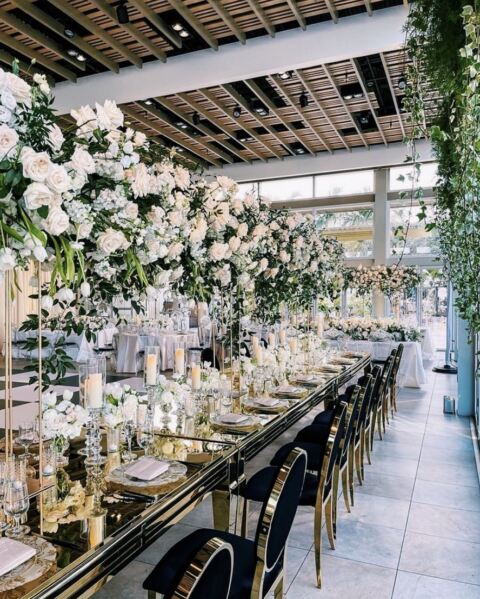 Elegant
An elegant wedding is classically timeless. Expect clean lines, metallic details, and greenery accented by understated florals. Crisp white linens, and muted greenery line the tables. Crystal and gold rimmed china mark the tables, and those tables will be lined with wedding chair rentals that might be upholstered or slipcovered in white or cream hues. The chairs could also feature polished wood elements, or even have metallic detailing.
Examples: Gold Bamboo Chiavari Chair, Gold Chameleon Chair, Montpellier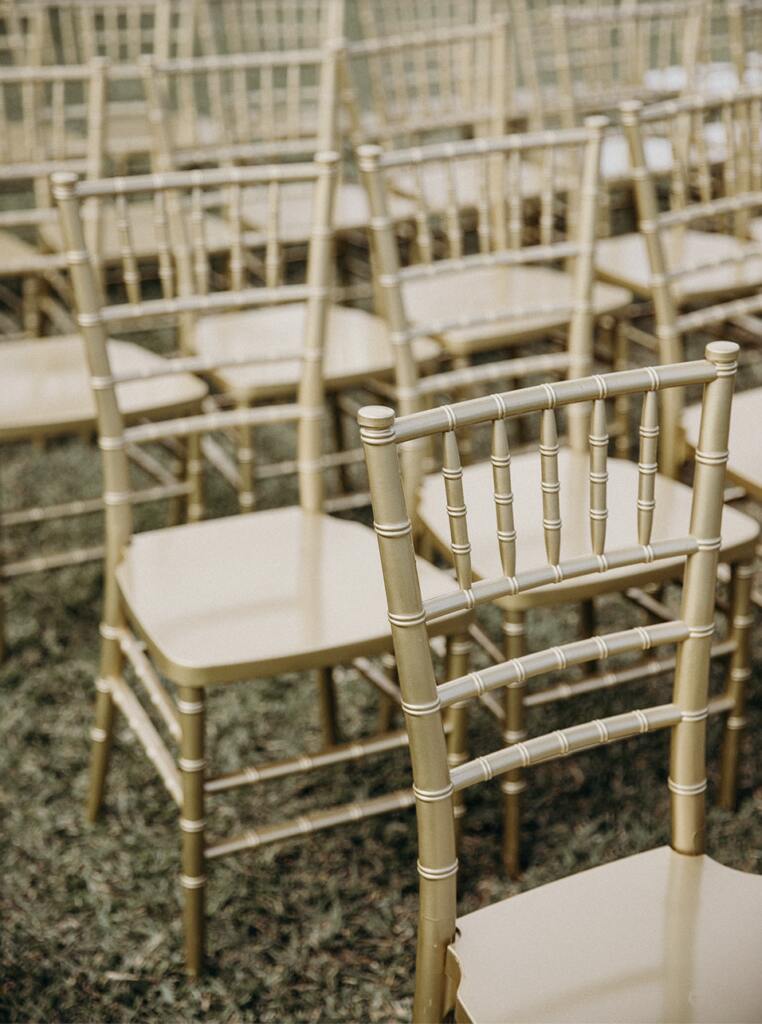 Rustic
Rustic weddings are just so fun. This relaxed theme can be elegant, or have a more comfortable feel. Twinkle lights and dreamy candlelight can accommodate this theme. One thing it will definitely contain is wood. The outdoorsy feel of a rustic wedding will most likely entail wooden chairs or seating. Consider bench seating at your reception tables to change up the look. Or use aged-wood with gauzy elements. This is a great theme to add a mix or match feel. There are so many wooden chairs that mixing up the seating can add a beautiful look to your seating.
Examples: Distressed Wood Fatima Chair, Elio Gun Metal Chair, Heidi Wooden Armchair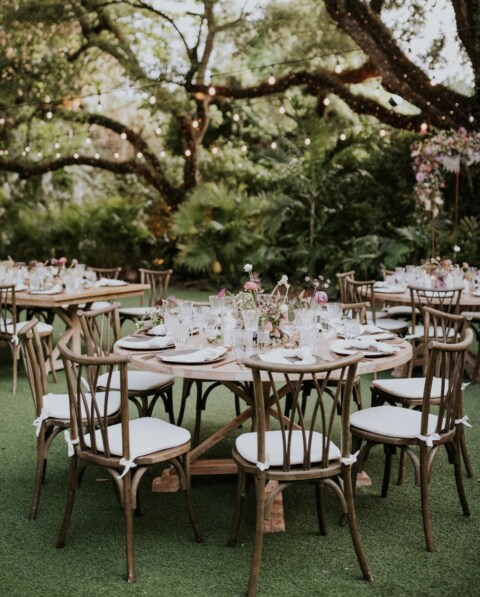 Modern
The Modern style has endured it's name because of its clean lines and ability to make a wow-worthy statement with minimal décor. This look can incorporate an industrial flair or artsy feel. The wedding chair rentals for this aesthetic might be luxuriously clean and white with rounded backs, creating additional visual texture with curves. Or colored chairs that add depth to the theme with clean lines and textures. Ghost-style chairs are a nice touch to create a non obstructed feel.
Examples: Plastic Side Chair with Dowel Legs, Selma Spool Chair, Berlin Chair