Bill Hansen's FIU Hospitality Students Plan Complimentary Wedding for Winning Miami Couple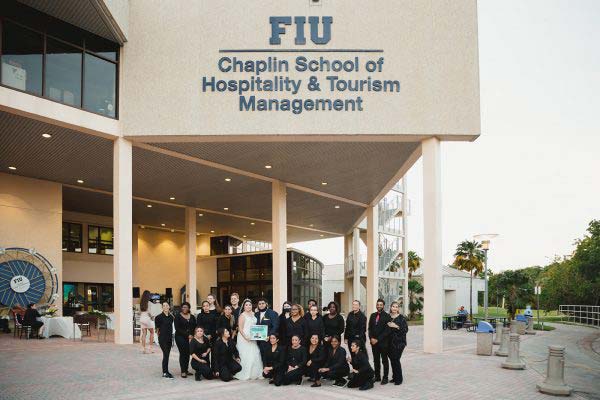 A Miami couple had their wedding plans canceled due to the pandemic. Bill's FIU Hospitality class changed that…
Bill Hansen, an adjunct professor at FIU's Chaplin School of Hospitality, put a call out for couples to submit videos of why they should receive a wedding, which his FIU Hospitality students would produce as their class project. Bill's class chose the winning couple, Juana and Adrian, who shared their story of wanting to get married in 2019 but being unable to celebrate as planned in 2020 due to the pandemic.
Bill Hansen's students planned the wedding for months, seeing to every aspect of the event and securing local vendors, who also provided their products and services at no cost. The idea was sparked by Bill Hansen of Bill Hansen Catering & Event Production and supported by FIU Hospitality professor John Noble Masi and instructor Cristina Moguel.
"To have this happen right now is beyond anything I ever thought could happen to me," said bride Guzman. "I didn't think it could happen to ordinary people."
Their wedding took place Wednesday, April 7 in front of about 50 family members and friends at FIU Hospitality's patio space and was featured on WPLG Local 10 News, CBS 4 News, and FIU News.
Congratulation's Juana and Adrian! We're honored to have been part of your dream come true!
An extra special thank you to the vendor partners that made our couple's dreams a reality. Scroll down to see the team!
Dream Team
Photo/Video: Modern Love Productions | Cortiella Photography | De La Rosa Weddings
Decor: Mi Vintage | Summer Nicole Events | Ju Luxe Events | Field of Flowers | Diamonette
Party Rentals: Ju Luxe EventsOver the Top Linens
DJ: LR Entertainment | Aroma Espresso Bar
Cakes: Edda's Cakes | Cakes by Samantha
Outfits & Accessories: J Del Olmo | My Grooms Room | Sartori Amici | Montica Jewelry
Planning a wedding and concerned about your guest list adjustments? Check out Bill's advice on what to do!